First of two BIA bike repair stations set up in downtown Stratford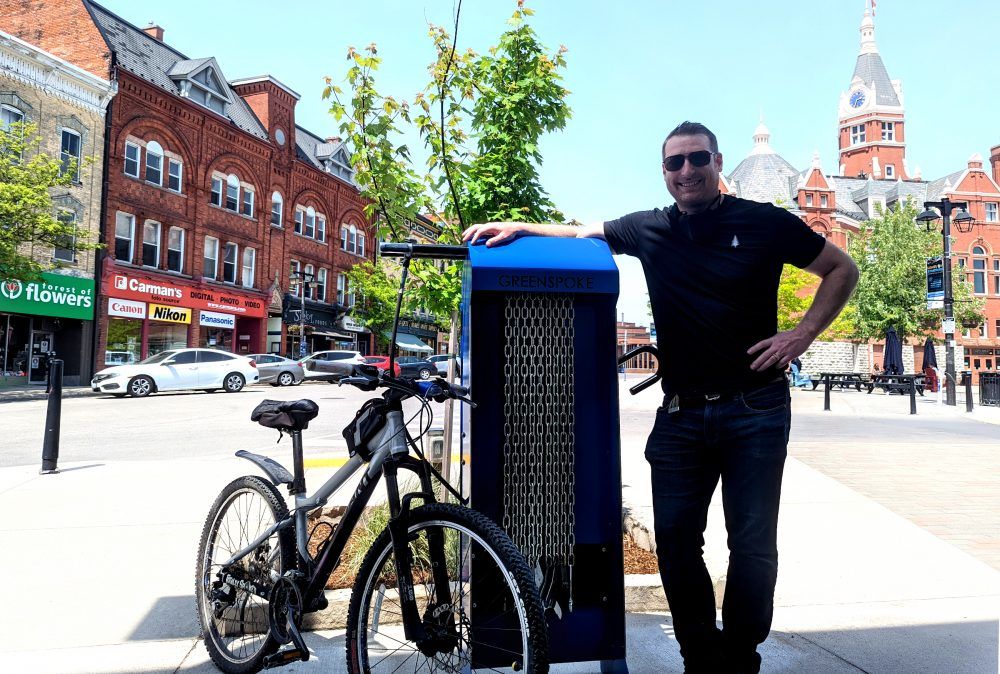 Stratford Town Center BIA recently installed the first of two bike repair stations purchased as part of an ongoing effort to make the town more bike friendly.
Content of the article
Cyclists have another reason to visit Stratford town center after the Stratford Town Center BIA recently installed the first of two bike repair stations on the corner of Wellington Street and Market Square.
Content of the article
Complete with an air pump and an assortment of tools for simple repairs and adjustments, the repair stations were purchased by the BIA at $4,000 each as part of an ongoing effort to make the city friendlier to the bikes.
"Downtown there are actually eight businesses that are Ontario By Bike certified, so it kind of fits with this cycle tourism trend and we want to be a part of that," said James Hough, chair of the beautification committee. of the BIA. "We need more infrastructure and we decided to lead and start installing it ourselves. …Companies take the initiative to get certified, so (we thought) let's keep putting the infrastructure in place.
As co-owner of The Pulp Fresh Bar, one of the certified businesses, Hough said offering amenities such as nearby bike parking and repair stations, as well as maps and destination information suitable for bicycles is ideal for businesses and a practical way to promote a healthy and environmentally friendly mode of transport.
"Destination Stratford also prepares in this way and advertises for people to come by bike," Hough said. "Perth county for me has amazing routes for cycling, especially Stratford. The whole town is cycleable so might as well try to get people out on bikes.
With only one repair station set up at this point, Hough said he and his committee are monitoring bike traffic and use of the first station before deciding where the second will go. From now on, he said there was a good chance he would end up near the Boat House Patio on Lake Victoria
Content of the article
The BIA also plans to wrap the repair stations in colorful artwork that will include QR codes that cyclists can scan with their smart phones to access maps and information about bike-friendly businesses and destinations.
As part of its efforts to make Stratford more bike-friendly, the BIA is also bringing back its popular Car-Free Friday events starting June 3 and continuing once a month through the rest of the summer. On these days, anyone who chooses to cycle from 8am to 10am can stop by the Market Square Bike Repair Station to receive either a free coffee from Revel Cafe or a cold juice.
For more information follow The Stratford City Center on Facebook and Twitter or visit www.stratfordcitycentre.ca.