GREENVILLE — A new tavern is coming downtown along the Reedy River, as long as the co-owners can get city approval.
The People's Tap craft beer concept is slated for an early fall opening on the ground floor of RiverPlace that faces the river just above the falls.
The owner couple, Julia Belcher and Jennifer Lion, must get the blessing of the city's Zoning Appeals Board to operate as a bar. City planning staff recommended that council approve the application on June 9.
The tavern, which advertises itself as "pints for the people", will take up the empty space that retail and repair shop Freehub Bicycles left when it closed what was its second location.
The space, before Freehub inhabited by the Pedal Chic bike shop, is on the ground floor of the Embassy Suites next to the Arts Crossing row of studios and a short walk from the downtown stretch of the Swamp Rabbit Trail.
In the application to the city, Belcher highlights the pathway as central to the dining room's appeal.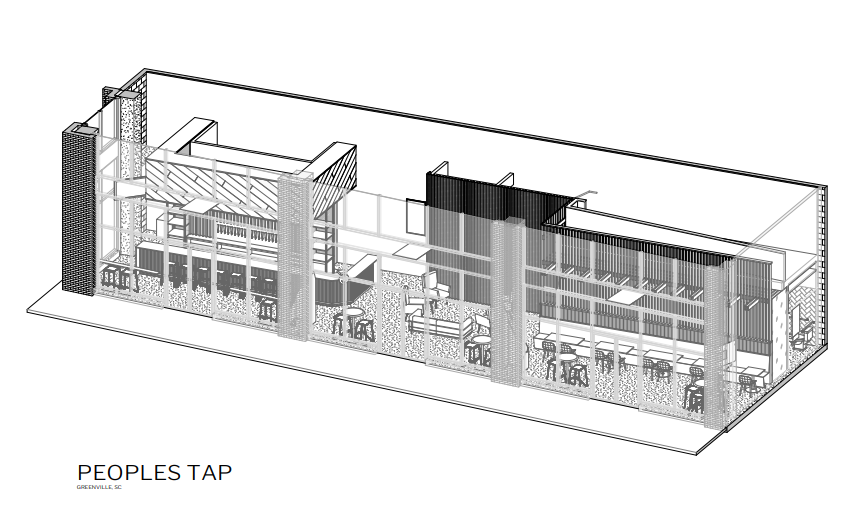 "As our location is between Falls Park on the Reedy and the new Unity Park, we will have many Swamp Rabbit Trail customers," she said. "We will provide guests with refreshments, a water fountain and easily accessible restrooms. We connect with our neighbors on the Swamp Rabbit Trail, fellow entrepreneurs and business owners."
The dining room will partner with Papi's Tacos at a few storefronts to cook and deliver food to customers, and will periodically reach out to food pop-ups to support other local businesses.
Artist renderings and a virtual tour shared in the taproom's app and social media show a transformation of the repair shop into an interactive space with community seating.