Safety number to call in case of non-emergency in Downtown Portland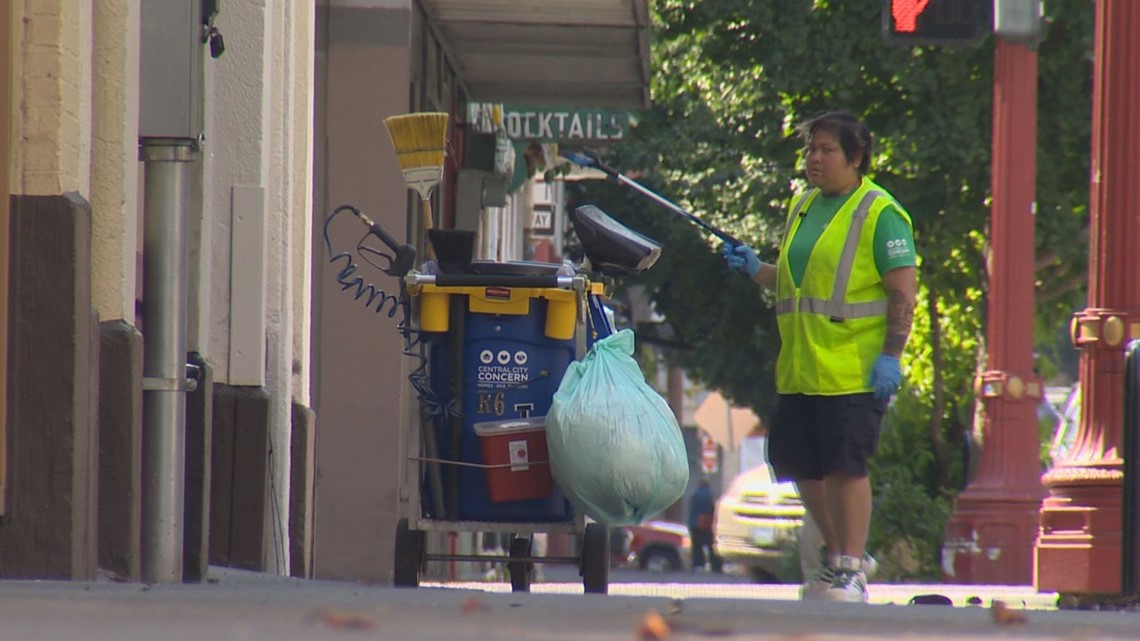 If you are downtown, you can now call Clean & Safe at 503-388-3888 for non-emergency safety concerns.
PORTLAND, Oregon. — The smell of urine permeates the sidewalk. Heaps of garbage and rows of tents line the sidewalks. On the corner of Northwest Flanders Street in the Old Town, the hot August sun hits Lena Son as she picks up rubbish.
"I've been doing Old Town for about two weeks now," Son said as she gently dropped a syringe needle into a plastic safety box on her cart. She works for the Downtown Clean and Safe Programkeeping the streets litter-free and helping those who live there.
She described the Old Town as her "craziest" route.
"More dirty, more people, more homeless," she said.
For Son, it is easy to work with homeless people because she has lived on the streets: "I have a bad past; I had a bad past and couldn't find a job anywhere.
Now she is using this work to make a difference.
"I know I made a mess too, and now I feel like I can help clean up people's camps and stuff…I just helped a guy right now look for the White House and he couldn't read a map."
Those living in tents along North West Flanders appreciate the work that Son and the rest of the Clean & Safe teams are doing.
"I've seen them do a good job. I think they have to stay," Tracey said.
"They help me so I have to do the same too," Drake added.
As the Portland Police Bureau grapples with severe staffing shortages, these Clean & Safe teams are stepping in to help. This includes extended hours and a new security number you can call. They also aim to work the streets 24/7, especially in the early morning hours, a difficult time for Portland police.
"We are serving as a triage for an understaffed police office in a difficult time," said Mark Wells, executive director of Clean & Safe.
If you're downtown, you can now call them at 503-388-3888 for non-emergency security issues, such as people sleeping in doorways or disrupting business.
"It's building a relationship by treating people with respect and saying, 'Hey, would you mind stepping a few feet away from the door?' Of course, if these situations worsen," he added. "That's why we have a partnership with the police office."
However, often these Clean & Safe workers also find themselves at risk.
"I was attacked once when this guy threw a bag of cereal at me and then put me in the face," Son said. "One of my colleagues was also assaulted. He was sitting during his break and he received five blows to the face.
When it gets dangerous, they call the police and they ask you to do the same. "Walk away from the scene and call the dispatcher," Son said.
For emergencies, call 911 for immediate response and call Clean & Safe after confirming an officer is on the way.